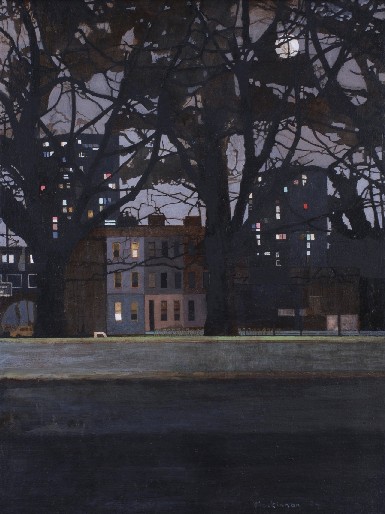 James Mackinnon, oil on canvas
"Under the Cranes" is much more than an impressionistic
survey of Hackney, although it succeeds superbly in revealing much of that most diverse of inner London
boroughs. It really extends the tradition of the 'city symphony', launched in the 1920s before film could speak, and Michael Rosen's collage of voices – historic, contemporary and imagined – creates a constantly shifting counterpoint to the equally varied images that Emma-Louise Williams has gathered.
But the stories it tells are rarely predictable: home of the world's first plastic; a cab-horse's point of view on traffic (courtesy of Black Beauty); trying to buy the freehold of a tandoori restaurant. Even the expected battles with Mosley's black-shirts are told from fresh points of view; and paintings by Leon Kossoff, Jock McFadyen and James Mackinnon intersperse
the filmic record of Hackney past and present, with Rosen's poetry giving it a surreal edge. Like another chronicler of Hackney, Iain Sinclair, the film's makers want to challenge the logic of 'regeneration', and show its human cost. This is a powerful plea for a liveable Hackney, that can continue to welcome the world rather than only its bankers and landlords.
Ian Christie
www.ianchristie.org
Next Screening:
November 1
7.00pm Film plus writer/director Q&A
at Birkbeck Institute of the Moving Image, London